​
Share your new style with us on Instagram using the Hashtag

#kmlstudiostyle
Hair by Marilyn
​​
Marilyn prides herself in staying on track with current trends when it relates to hair and fashion, styling, cutting and colouring techniques.
​
"I always try to visit a salon in whatever country I'm in. Even with a language barrier I have been able to teach and take away a learned method from stylists and barbers alike."
Krystal's Memaid hair by Mare

marekrystal.jpg

Mare 3.jpeg

Mare9.jpeg

Mare10.jpeg
A new mom who needed a new look. Esther is our 3rd "Super Star". Lori took her from long and frumpy to short and sassy. An easy to manage style for a mom on the go. Esther donated her hair to Locks of Love.
Look at her after picture. Does more really need to be said. Again, a mom on the go needed something manageable and quick. Dana is our 4th "Super Star" She donated her cut tresses to The Canadian Cancer Society.
Alannah used the KeiraStraight system. Lori turned her frizzy and unruly hair in stunning luxurious locks. What an incredible transformation!
Dana loves her hair but wanted something more. Lori added some highlights and now Dana looks as radiant as the sun.
Not quite long enough. Lori used the PURE Extension line on Krystal to give her some length and fullness. PURE Extension is a loop and lock system that doesn't damage your hair the way sewed or glued extensions do. Looking fabulous Krystal!
Like any great musician, Wesley needed an attitude change and his hair was where it was at. He went from fun and cute to future rockstar!
Margot decided it was time to have a little bit of fun with her hair. She had Lori add a few bright and beautiful colours and is loving every minute of it.
Hair by Lori
​​
Lori is a technical hairstylist with influence that come from strong shapes.
​
Lori also enjoys applying colour, "Colour for me is fun, why not change it up whenever you can?" Whether it's bold statements or natural looking shades- colour is ever changing and so are the methods of application.
Hair by Tammy
​​
Tammy brings over 15 years of experience with her to apply to her clients in her chair at KML Studio. Along with her experience, she continues to educate herself to keep up to date with the latest styles in the world of hair.
​
Tammy enjoys cutting hair of all kinds and loves barbering, but she confesses that her forte is colouring and trend cutting, "The edgier the better" Tammy says.
tam2.jpg
Mike is sporting a Mohawk created by Tammy. No better way to show who you are than with a red Mohawk. Keep on rockin' Mike!
Dee loves her red hair but needed a little something added. Tammy added some stunning copper highlights and now Dee can't stop smiling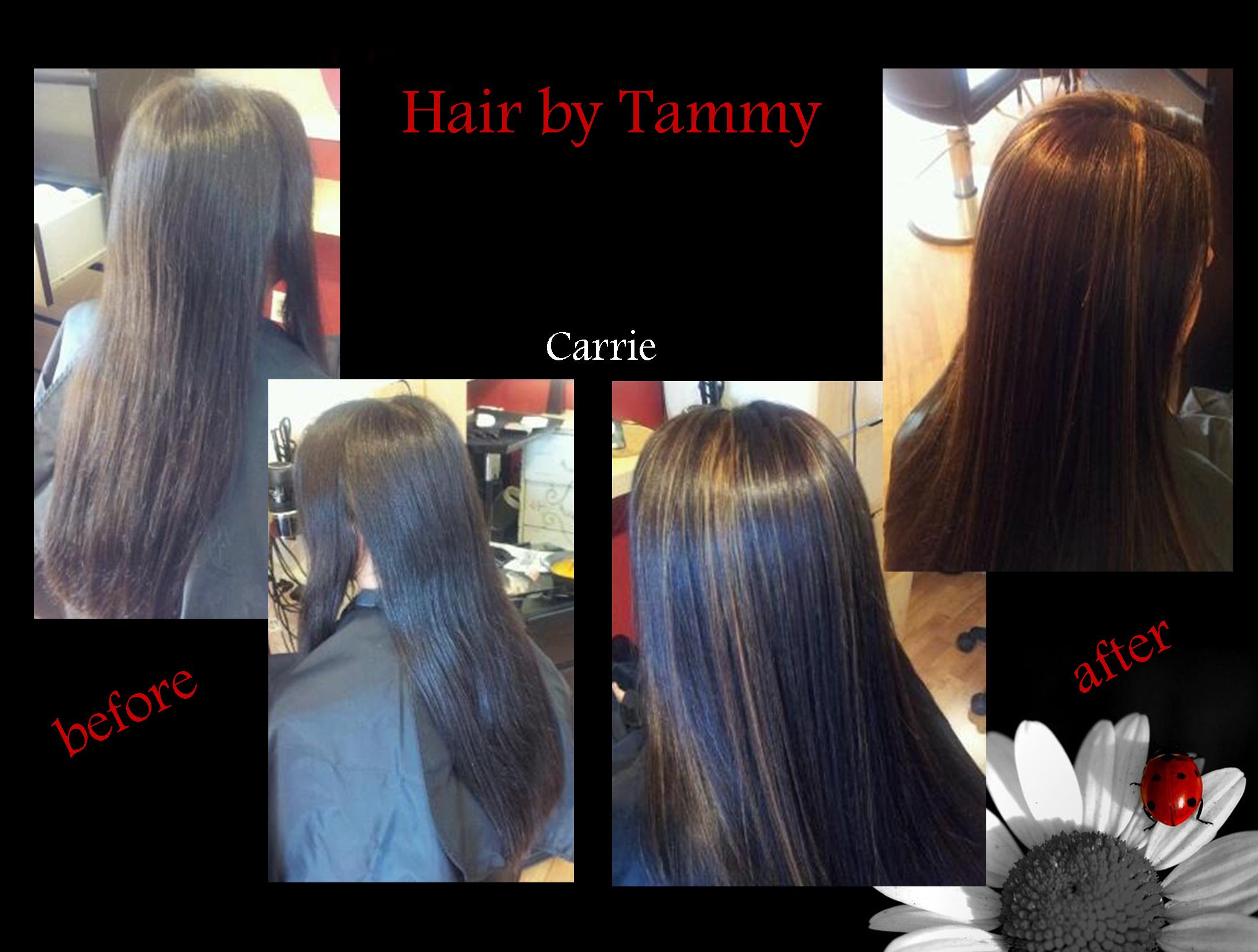 Tammy added some copper highlights to Carrie's hair. What a difference it made. How can you not be ecstatic when your hair looks this beautiful?
What an adorable little girl. She looks like a princess with her new hair cut from Tammy.
Maya is KML's 5th Super Star!! Maya is 6 years old and visited KML Studio with her mom. Maya met Tammy and asked Tammy cut off all 10 inches of her hair so she could donate it to the Canadian Cancer Society. Maya couldn't be happier with her new hair.
Ashley is KML's 7th Super Star!! Tammy cut off all 11 inches of her hair so Ashley could donate it to the Canadian Cancer Society. Great job Ashley!